In these uncertain times of pandemic Covid-19. Our lives have been affected like never before. But the hope and willpower of humans are making it possible to fight this situation. People all over the world are trying to keep up with their daily activities with struggle, bravery, and strengths in their hearts. Nobody is giving up, neither should you!
A very popular man once said, "The show must go on." Hence, we have come forward to support our students and the education system to resume working. Our Learning Management System is here to help students, schools, and colleges to start the noble task of teaching and learning as smoothly as possible. We are reaching out to as many schools as possible to help run the education system. 
If you are a trustee or member of management who is eager to resume classes. If you want your students to begin learning without wasting any more time that has already been lost due to the Covid-19 pandemic, you can take the help of our Learning Management System. 
We have designed it keeping present-day needs of students, teachers, the school, and the various education boards of India. State boards, ICSE, CBSE, and the international board. 
For those of you, who are not familiar with the concept of LMS. Here is a brief description of it. 
The Learning Management System is popularly known as LMS. It is a software application used for the purpose of documentation, administration, and delivery of educational courses. LMS helps in training, learning, and development programs. 
E-learning gave rise to the Learning Management System. In the late 1990s LMS was introduced in higher education but over the years it has spread to different strata of education as well as the corporate sector.  
LMS was designed to know about gaps in training and learning. Through online delivery, various sectors are benefitting from LMS. It provides classroom management along with online content to its users. 
Features of a Learning Management System (LMS)
The Learning Management system handles different types of content like video, audio, and documents 

LMS allows the use of a teacher/instructor, a discussion board that may or may not come with a syllabus 

Teachers can arrange the syllabus and provide an overview of the topics completed 

Students can actively participate in the learning process 

Questions, answers, and doubts can be easily cleared 

A Learning Management System is as good as a classroom 

Teachers can add text, images, audio, videos, links, PDFs, etc.

LMS helps to manage syllabus by building modules 

It becomes very easy to keep track of the syllabus and topics covered 

Reports of students can be generated

Students can be imported to online classes 

Possible to customize tests

Students can appear easily for online tests

Evaluation of students is easier and fair

LMS platforms allow different question formats 

Teachers can prepare One/Multi-line Answer, MultiChoice Answer, True/false, Essay, etc.

Easy to take attendance of students and mark late arrival or missed classes

Simple to take feedback and queries of students

Students can comfortably study 

Pupils can finish and submit assignments through photos or text documents

Study material can be accessed at any time

Teachers can modify content easily and swiftly

Safe to assign and use

Data management is easy and simple

Calendar and content features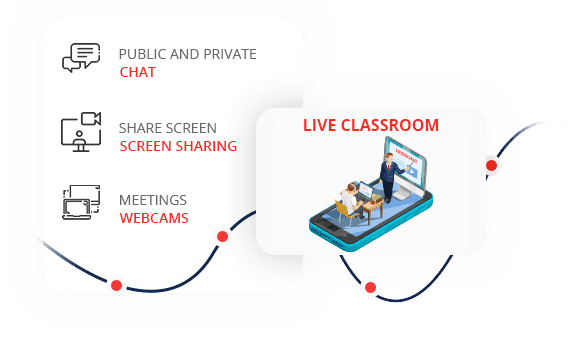 Benefits of Learning Management System (LMS)
It is very easy and simple to use

LMS is efficient and time-saving

Helps to recover lost time of syllabus 

Students do not miss out on learning 

The learning process will not be hampered

Help to kick-start economic slow-down 

Relief to parents once schools begin teaching

Precious time of students will not be wasted
Our Learning Management System works on all types of devices. It is easy to conduct online classes. The dashboard is very simple to use. It has been specifically designed to cater to the needs of teachers and students who may or may not be tech-friendly. Navigation on the dashboard is as easy as using any social media platforms. 
Many schools have already started teaching students through the use of LMS. Do not waste time and get your school running in no-time with the help of LMS. K-12 schools can take advantage of LMS to resume teaching. Classes can be conducted in batches to ensure a rich learning experience. 
LMS is customizable and quick to implement. We are here to help your school start classes in no-time. Students are eagerly waiting to start their classes and are badly missing their studies. LMS can help teachers to motivate pupils to study with dedication and make-up for the lost time. Moreover, it will help to reduce the burden on society as a whole, when things return to normal.
As, teaching starts with the help of LMS, the syllabus will be completed on time. This will prevent the heavy burden falling on teachers and students to complete the curriculum for this academic session before the new session begins. Students will not be put under pressure if schools start their classes now. It will give ample time to students to finish learning and understanding of the curriculum, set for their standards or grades. 
LMS is the best option for schools and colleges to bring back normalcy to the education field. Without leaving the safety of homes, teachers can teach and students can learn. Members of school management can generate revenue and keep track of the progress of all classes. Under proper supervision and surveillance, students can productively utilize their home-stay time. 
To utilize the time of students and complete their syllabus on time without putting any burden on all the stakeholders of the education system, you can use our Learning Management System. LMS will help to make things fall in place and synchronize everything in the world of education which has been disturbed due to this pandemic Covid-19. 
To know more about LMS, you can call us at 9727735599 or visit our website www.campusdean.com to get a free demo. You can email us your requirements at info@campusdean.com
We will be more than happy to help our schools, children, and teachers resume the most important task of teaching and learning.