Biometric attendance system is fundamental for schools nowadays. To keep track of the regularity of students and employees of a school or college digitally is very helpful. It generates reports and graphs of attendance on a daily, weekly, and monthly basis, based on these patterns and trends can be detected. That can reveal the actual cause of the absenteeism shown by students or employees on a specific day, week, month, or during any particular occasion.
We provide automated attendance facility by these methods :
Biometric device: Takes attendance by fingerprint or face recognition.
RFID cards: These are very easy to use and keep an authentic track of attendance of students and employees.
These reduce considerable time in taking attendance and make that time available for something more productive.
Biometric attendance system is very cost-friendly and superbly easy to use, durable, and robust.
We boast of these facilities :
automatic attendance taking

generation of reports specifically of a student or a particular group

error-free and ambiguity removed records available

integration with online payment portal available

time-saving and quick access to every report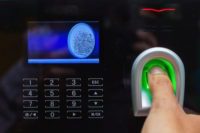 The management can get the correct details of the presence of employees, the exact time duration of their work, time spent in lunch breaks helping in assessing their performance. These are very useful in reducing the time employed for taking attendance manually. Biometric system removes any chances of manipulating the attendance wrongfully or tampering with the data. No worries during the distribution of salary as the reports on the attendance of any particular teacher or staff can be generated immediately with no errors.
Get Biometric System of CAMPUSDEAN, the Best school management software for improving and enhancing the performance of your school or college. We assure of the best system for making the task of taking attendance smooth, easy, and quick.