Every day, school authorities around the world engage in a variety of administrative and academic activities in order to manage and improve students' academic experiences. However, in today's fast-paced world, maintaining and tracking school administrative activities is a difficult task. It takes time and effort. CAMPUSDEAN School ERP Software is designed to help schools with their day-to-day functions such as attendance, coursework, and grades. They were originally designed to improve the efficiency of the educational system.
School ERP software is a system designed to manage all administrative work for schools and institutions. It includes numerous modules that assist teachers and staff in keeping track of students' activities, such as daily attendance, calendar management, managing academic records, rate management, student assessments, and so on.
CAMPUSDEAN school management system aims to alleviate administrative discomfort and improve efficiency and productivity. This cloud-based solution supports several modern technologies, including online payment gateways, RFID cards, biometrics, mobile technology, and email alerts. The software can also be customized to meet the needs of an institution.
Why Do You Need a School ERP Software System?
A school ERP system automates and streamlines administrative tasks such as student admissions, enrollment, attendance tracking, grade management, timetable scheduling, fee collection, and more. This automation reduces manual effort, minimizes errors, and saves time, allowing administrators to focus on core educational activities.
A school ERP software system promotes collaboration among various stakeholders within the educational institution. It allows teachers to share resources, assign tasks, and collaborate with colleagues, fostering a more productive and collaborative learning environment. It offers features such as messaging platforms, announcements, and notifications, enabling timely and effective communication regarding important updates, events, assignments, and student progress. It provides a secure and easily accessible platform to manage and retrieve data, improving data accuracy and efficiency.
In summary, a school ERP software system is necessary to streamline administration, enhance data management, improve communication and collaboration, foster parent engagement, facilitate data-driven decision-making, optimize resource management, and support the overall growth and success of educational institutions.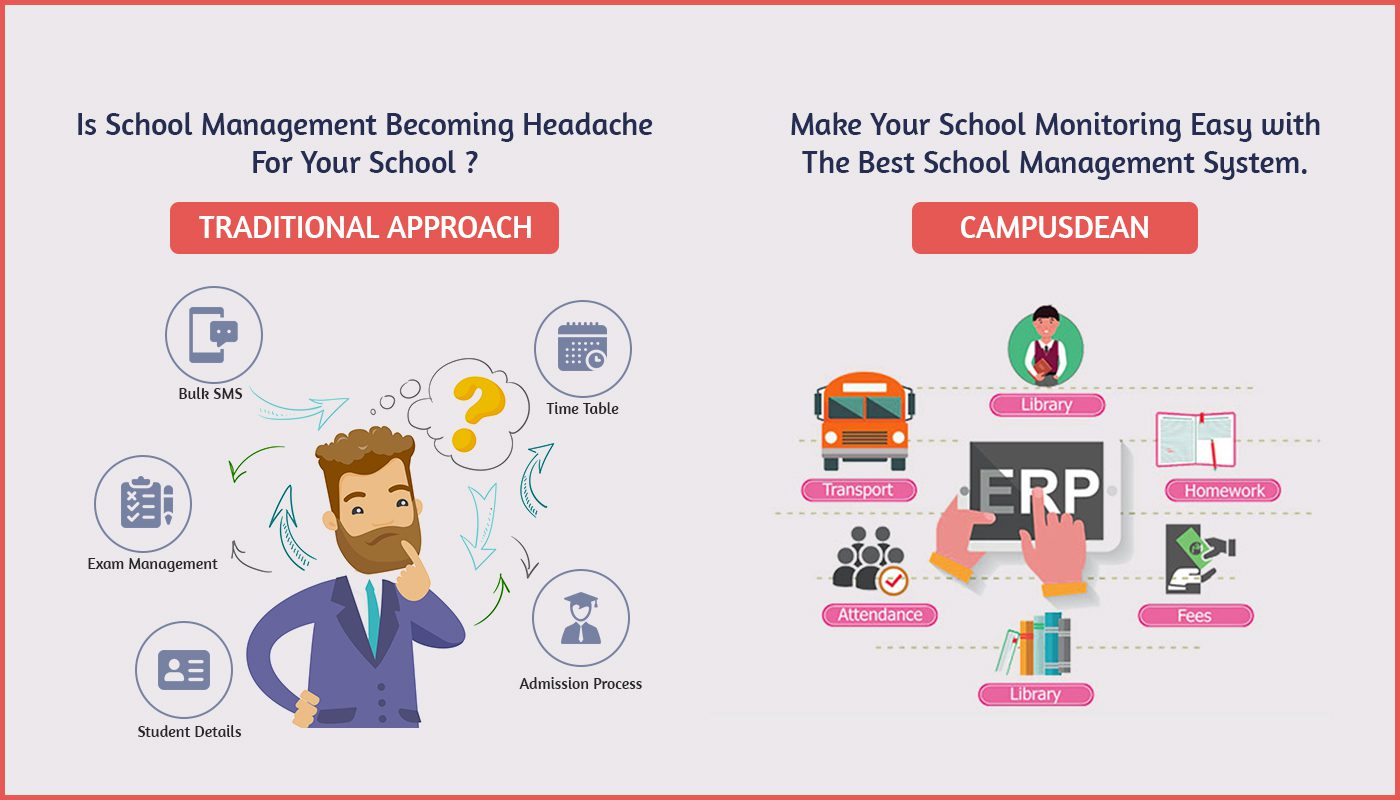 Modules of School ERP System
School ERP systems typically include a number of modules or components that manage various parts of school administration and management. The specific modules may differ depending on the ERP system provider and the educational institution's needs.
Admission Management
Don't keep a bundle of files. This would only make it more difficult to access your documents when needed, so it is preferable to use school ERP, which allows you to save and centralize all of your documents.
CAMPUSDEAN can easily handle registration and admission for both old and new students. It eliminates the troubles caused by human errors and treats each student differently, according to their individual information.
Student Information
School ERP manages student data such as personal information, enrollment details, academic records, attendance, health information, and more.
Parent Access
It can be difficult as a parent to balance time with your children and their academic goals. Parent portals and school apps allow parents to monitor their children's progress.
Attendance & Timetable Management
Attendance management is a tough responsibility and teachers often have to spend time with this at the beginning of each class. Teachers need to do this not only for teachers' sake but also for students. It can be difficult, so sometimes teachers work in pairs or ask administrative assistants to help out too.
Fee Management
The school ERP fee module manages student fees, generates invoices, tracks payments, issues receipts, and provides financial reports for students, parents, and administrators.
Library Management
An effective way to simplify and streamline school library management has been recently developed. It has 4 features: Find, Search, Issue, and Return books. To automate your library, this software offers barcode & scanning capability. You'll also be able to access reports of library members, daily issue registers, and more.
Transport Management 
For the management of school transportation to be effective, any software will need the capacity for detailed tracking of student routes. This allows you to see anytime they change and what effects they have had on them. They also display information like students who have elected to take the bus without routes assigned to them. Reports are uploaded to parents automatically with GPS locations to make sure they have the opportunity to know if their children are safe.
Benefits of CAMPUSDEAN School Management System :
The following list shows the best benefits of the

school management system.

India, Adilabad, Ahmedabad, Aizawl, Alappuzha, Alirajpur, Ambala, Amreli, Anand, Andhra Pradesh, Angul, Anuppur, Ariyalur, Arunachal Pradesh, Ashoknagar, Assam, Aurangabad, Bagalkot, Balaghat, Balangi, Balasore, Ballari, Banaskantha, Bangalore, Bardez, Bargarh, Barwani, Belgaum, Bengaluru, Betul, Bharuch, Bhavnagar, Bhind, Bhiwani, Bicholim, Bidar, Bihar, Bijapur, Birbhum, Bokaro, Chamarajanagar, Champhai, Chandel, Chandigarh, Changlang, Chatra, Chennai, Chhatarpur, Chhattisgarh, Chhindwara, Chikkaballapura, Chikmagalur, Churachandpur, Coimbatore, Cooch Behar, Cuddalore, Cuttack, Dahod, Dakshina, Damoh, Dang, Darjeeling, Datia, Davanagere, Debagarh, Delhi, Deoghar, Dewas, Dhalai, Dhanbad, Dhar, Dharmapuri, Dimapur, Dindigul, Dindori, Dumka, East Siang, East Singhbhum, Ernakulam, Erode, Gajapati, Gandhinagar, Ganjam, Garhwa, Gir Somnath, Giridih, Goa, Godda, Gomati, Gujarat, Gulbarga, Gumla, Guna, Guntur, Gwalior, Gyalshing, Harda, Haryana, Hassan, Haveri, Himachal Pradesh, Hisar, Hooghly, Hoshangabad, Howrah, Hyderabad, Idukki, Imphal, Imphal West, Indore, Jabalpur, Jagatsinghpur, Jaipur, Jalpaiguri, Jammu Kashmir, Jamnagar, Jamtara, Jhabua, Jhajjar, Jharkhand, Jharsuguda, Junagadh, Kanchipuram, Kandhamal, Kannada, Kannur, Kanyakumari, Karimnagar, Karna, Karnataka, Karur, Kasaragod, Katni, Kendrapara, Kendujhar, Kerala, Khammam, Khandwa, Khargone, Kharsawan, Kheda, Khordha, Khowai, Khunti, Kiphire, Kochi, Kodagu, Koderma, Kolasib, Kolkata, Kollam, Koraput, Kottayam, Kozhikode, Krishnagiri, Kurnool, Kurukshetra, Kurung Kumey, Kutch, Latehar, Lawngtlai, Lohardaga, Lohit, Longleng, Ludhiana, Lunglei, Madhya Pradesh, Mahabubaba, Maharashtra, Mahbubnagar, Malappuram, Malda, Malkangiri, Mamit, Mandla, Mandsaur, Mandya, Mangan, Manipur, Mapusa, Mayurbhanj, Medak, Meghalaya, Mehsana, Mizoram, Morena, Mumbai, Murshidabad, Mysore, Nabarangpur, Nadia, Nagaland, Nagapattinam, Nagarkurnool, Nalgonda, Namakkal, Namchi, Narmada, Narsinghpur, Navsari, Nayagarh, Neemuch, Nizamabad, Noida, North Sikkim, North Tripura, Nuapada, Nuh, Odisha, Pakur, Palakkad, Palamu, Panaji, Panchmahal, Panipat, Parganas, Patan, Pathanamthitta, Perambalur, Peren, Pernem, Phek, Ponda, Porbandar, Prakasam, Pudukkottai, Pune, Punjab, Purba Medinipur, Puri, Purulia, Raisen, Rajanna, Rajasthan, Rajgarh, Rajkot, Ramanagara, Ramanathapuram, Ramgarh, Ranchi, Ratlam, Rayagada, Rewa, Rewari, Rohtak, Sabarkantha, Sagar, Sahebganj, Saiha, Salem, Sambalpur, Sangareddy, Satna, Sattari, Sehore, Senapati, Seoni, Seraikela, Shahdol, Shajapur, Sheopur, Shimoga, Shivpuri, Sidhi, Sikkim, Simdega, Singrauli, Sipahijala, Sircilla, Sivaganga, Sonipat, South Sikkim, South Tripura, Srikakulam, Subarnapur, Sundergarh, Surat, Surendranagar, Tamil Nadu, Tapi, Telangana, Thanjavur, The Nilgiris, Theni, Thoothukudi, Thoubal, Thrissur, Tikamgarh, Tirap, Tiruchirappalli, Tirunelveli, Tiruppur, Tiruvannamalai, Tiruvarur, Tripura, Tuensang, Tumakuru, Udupi, Ujjain, Ukhrul, Umaria, Unakoti, Uttar Dinajpur, Uttar Pradesh, Uttara, Uttarakhand, Vadodara, Valsad, Vellore, Vidisha, Viluppuram, Virudhunagar, Visakhapatnam, Vizianagaram, Wayanad, West Bengal, West Siang, West Sikkim, West Singhbhum, Wokha, Yadgir, Yamunanagar, Zunheboto