Jharkhand is known as "The land of Forest."  It was carved out of Bihar in the year 2000. Jharkhand is the 15th largest state by area and 14th largest by population. It is famous for its natural beauty, which comprises waterfalls, hills, and lakes. It is home to one of the holiest shrines in India, which are Deoghar, Baidyanath Dham, Parasnath and Rajrappa. 
Unfortunately, Jharkhand suffers from a resource curse. More than 40% of the mineral resources in India are found in Jharkhand but, 39% of its population lives below the poverty line. 
The literacy rate of Jharkhand is 67%, according to the 2011 census. Male literacy rate accounts for 78%, whereas the female literacy rate accounts for 56%. The Jharkhand Education Project Council has implemented four projects for spreading elementary education. However, 100% of enrollment and retention rates of students have not been realized yet. Jharkhand became the first state in India in May 2008, to introduce free haircuts for poor students. 
There are several good colleges in Jharkhand for pursuing higher education. 
Indian Institute of Management (IIM)Ranchi

Indian Institute of Technology (Indian School of Mines), Dhanbad

NIT Jamshedpur

National Institute of Foundry and Forge Technology (NIFFT), Ranchi

National University of Study and Research in Law, Ranchi

Birsa Agricultural University, Kanke, Ranchi

AISECT University, Jharkhand, Hazaribagh

Kolhan University, Chaibasa

Patliputra Medical College and Hospital (PMCH), Dhanbad

Nilamber-Pitamber University in Medininagar

Ranchi University, Ranchi

St. Xavier's College in Ranchi

Central Institute of Psychiatry in Ranchi

Xavier Institute of Social Service (XISS), Ranchi

Xavier Labour Relations Institute (XLRI), Jamshedpur

Indian Institute of Agricultural Biotechnology, Ranchi

Arka Jain University in Jamshedpur

Jharkhand Rai University, Ranchi

M.G.M. Medical College, Jamshedpur

Central University of Jharkhand, Brambe, Ranchi

Jharkhand Raksha Shakti University, Ranchi

Sarala Birla University in Ranchi

Sido Kanhu Murmu University in Dumka

Vinoba Bhave University, Hazaribagh

Dr. Shyama Prasad Mukherjee University

Indian Institute of Information Technology, Ranchi

Birla Institute of Technology, Mesra, Ranchi

Birsa Institute of Technology Sindri, Dhanbad

Cambridge Institute of Technology, Ranchi

DAV Institute of Engineering & Technology, Daltonganj

Institute of Management Studies, Ranchi IMS-RU

NSIBM – Netaji Subhas Institute of Hotel & Business Management, Jamshedpur

Rajendra Institute of Medical Sciences (RIMS), Ranchi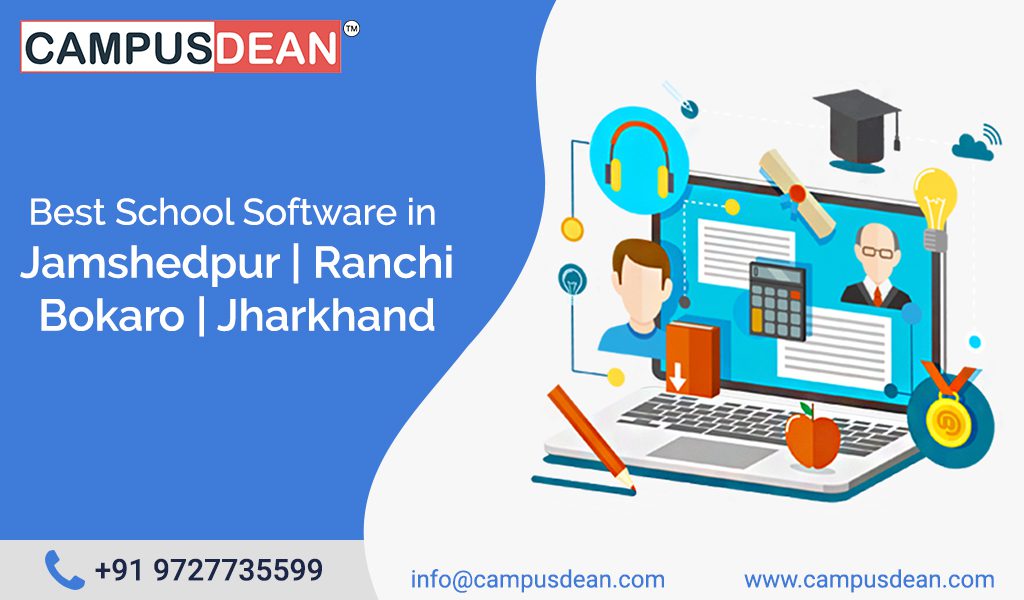 The government is striving hard to make education available to all children in the state. There are several good private and public schools in Jharkhand. To support schools in their noble endeavor of imparting education, school management software- CAMPUSDEAN is now available in Jharkhand.  
With the help of the school management system, schools can keep track of attendance and performance of students and staff alike. School ERP helps to effectively monitor assists to increase punctuality and accountability. Due to this, the results improve, and students perform quite well in studies and their careers. 
School management software is quite useful for schools. It helps them to manage their administrative and academic tasks much more efficiently and effortlessly. Bygone are the days when teachers had to carry big attendance registers every morning to take attendance and check the school diary of the children for parent-teacher communication. All of this can be done instantly with online school software. 
But this has changed with the introduction of the online school management system. A web-based school software gives the freedom to access the data and work on it from anywhere at any time. It removes the restraint of visiting a particular device to feed and update data. 
CAMPUSDEAN- School ERP has various modules and exclusive school mobile apps. The modules cater to different departments in a school or college. 
For administrative purposes, the different modules in this school software are
Multiple Campus Management 

Inquiry Management

Admission Management

HR Management

Account Management

Fee Management

Student Profile Management

Staff Profile Management

Student Attendance Management

Staff Attendance Management 
For academic purposes, various modules in this School ERP are
Class Timetable Designer

Lesson Management

Exam Timetable Designer

Exam Management

Result Management

Report Management

Graphs and Charts for Performance Analysis 
For assets management, modules given by this school management software are
Library Management

Hostel Management

Vendor Management

Inventory Management
CAMPUSDEAN- school management software also has the best school mobile apps for Parents, teachers, and the members of school management. These apps help in improving communication and instant information sharing.
Parent app for parents/students

Teacher app for teachers 

School Management app for managerial members/trustees
CAMPUSDEAN- the best school software is now available in Jamshedpur, Dhanbad, Ranchi, Bokaro Steel City, Deoghar, Phusro, Hazaribag, Giridih, Ramgarh, Medininagar, Daltonganj, Chirkunda, Jumri Tilaiya, Sahibganj, Saunda, Chaibasa, Lohardaga, Chakradharpur, Madhupur, Gumla, Chatra, Godda, Bokaro, Dumka, Garwa, Pakaur, West Singhbhum, Deoghar, Sahibganj, and Koderma. 
If you are looking for the best school management system in Jharkhand, you have come to the right place. To know more about this school management system and its pricing, you can email us your requirements at info@campusdean.com or call us at +91 9727735599. 
You can know more about this school software and even take a free demo of the CAMPUSDEAN-School Management Software by visiting the website www.campusdean.com.