Exams are important but not the end. It is the moment when your yearlong hard work pays off. So with full confidence in yourself give your best. The following tips will help you to score better and perform without any tension.
Prepare With Full Confidence ( Not Overconfidence)
This line is the biggest cliche of all times. But, it is also the biggest weapon of all time to face any challenge. If you think that your preparation is not up to the mark, still you need to have faith in yourself that you will do good. Do not be afraid and remove any doubt of performing poorly. Confidence will give you the result that you are expecting. 
Take The Help Of Your Parents/Elders/Teachers To Tackle The Difficult Subjects
If you are facing difficulty in some particular subject then you must take the help of your parents/teachers/elder Bhaiya or Didi. Talk to them openly and state your problem. If you are having a problem memorizing something then ask your parents to help you. If there is some conceptual problem ask your teacher to sort it out. But do not hesitate in seeking help. 
Do not give up before trying. If you are not able to learn something like a formula or definition in the first attempt, go for the second, go for the third, go for the fourth, go for the fifth. Keep going on and miraculously you will see that it will register in your brain. Do not give up!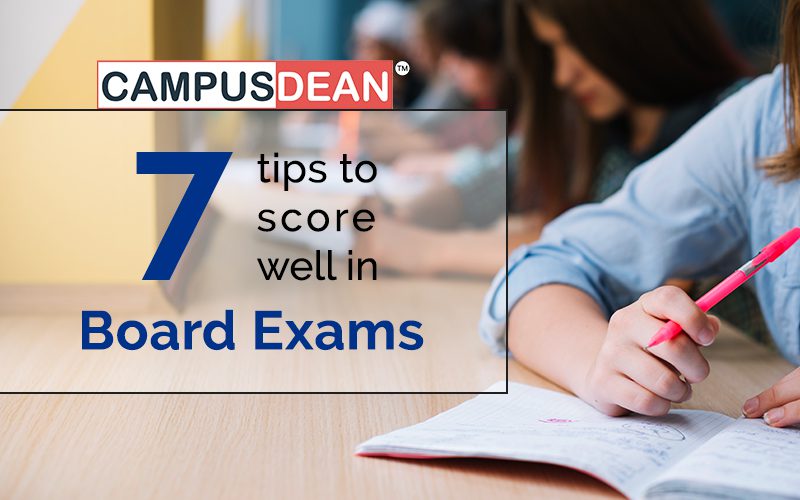 Leave Your Phone And Social Media For Sometime
Well, it is a harsh truth that you need to accept if you haven't till now. Get detached from your phone and social media for the time being. Think of exams like your distant cousins who come to spend a vacation with you. Whereas social media as your siblings who constantly stick to you. So why not give some time to exams who are only here for a month and take good care of them.
If you will take good exams now then they will also shower you with affection( good marks/scores) in this context. Think about this, I know you guys are quite intelligent and you know what is best for you at this time. So, give some rest to social media and work with books and copies.  
Revise Your Favorite Subjects Bit Early And Give Some More Time To The Difficult Ones
Finish revising subjects that are easy for you. And, give a little bit more time in tackling the ones that are a bit harder to crack. I think by this time, you already know which subjects pose a real danger. So, make sure you eliminate this danger by putting in some hard effort. If that is the case, do not give up at any cost. 
Maybe the difficult subject or the chapter will give you a tough time but you should not back down. If you start devoting time to the problematic subject today itself, then within 3 days of continuous effort you will find them become easier and easier.
Dedicate Some Time In Revising Formulas And Definitions
Formulas and definitions do fetch good marks in numerical-based questions, so make sure to revise them. You can use formulas and definitions while writing long question answers. That will be a plus point. 
Write the formulas and learn. Even if it takes 10 times to learn, then do it. Even if it takes 20 times, still do it. Believe me, you are not the only one facing this problem. There are many others but no one is giving up, so why should you? 
After writing a formula 10 times continuously for 4 days, it will become engraved in your mind. And, you will not forget it while writing your exam. Isn't it cool? 
Definitions are important and do fetch marks, so give some time in revising definitions. Speak them loudly and let your ears and brain hear it. It will sink and pour out easily during exams.

Write and Learn, Write and Practice
Write and learn because it will give you some speed while writing answers. If you have good speed then you will finish your paper with some time in your hands to revise your paper thoroughly. It is important to revise your answers after completing the exams because it helps in finding out any errors( calculations, spellings). You might have skipped any question, you can find that and attempt it. 
So increase your speed by writing and revising. 
Write the formulas and learn

Write the definitions and learn

Write the numerical and practice

Write the answers and learn
It will benefit tremendously!
Do Not Start Anything New
Do not touch anything if you do not know anything about that chapter. Do not try to cover it if it has new concepts and explanations that are time taking. Finish those topics and chapters that you are familiar with and have studied before. 
See which chapters and concepts are having more weightage, make them your 1st priority. And, finish them off confidently!
CAMPUSDEAN- school management software wishes Best Of Luck to all students who are appearing for Board Exams this year. Be confident and Nail it!