PARENT MOBILE APP
Kids are smart, but we have made our Parents smarter! In a real sense, this was the tool long wanted by the Parent's community so that they could keep an eye on their children's activities in the school. Those days are gone when parents waited for kids to show them the school diary for homework and notices. CAMPUSDEAN School Management Software brings every piece of information about the student on the phone of parents through the Parent's app. Attendance, Notice, and Homework options on the parent app software gives them an instant update on the presence of their child in class, new circular, and on homework of all subjects, respectively. 
Features of School Management Parent App :
Daily Remarks

Photo Gallery

Achievements

Results & Reports

Student Leave Application 

School calendar with holidays

Graphical Reports

Attendance details

Student's timetable

Classwork & Homework

Online fee payment portal

View fees detail

Communicate with teachers

Compare the performance of results

Scholastic and Co-Scholastic Results

Instant Notice board announcements

Track the live location of the school vehicle

Notifications of exams, fee dues, and other alerts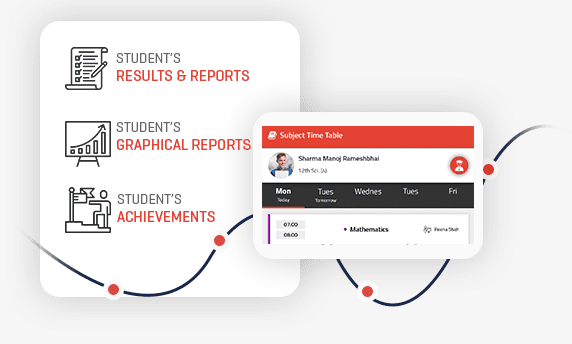 The option for downloading the files of homework or notifications is also available. They can view particulars of fees like the amount deposited and due. The parents are no more passive participants in the education system; they can exercise more vigilance on what their kids are doing in school. Quick update facility keeps everyone alert and active; students complete their classwork and homework on time which improves their understanding of things taught in class. This app has facilitated our parents to monitor the activities of their children and help them become consistent in doing homework and assignments on time. It also bridges the gap between parents, teachers, and students, enhancing the performance of students. CAMPUSDEAN is one of the best, secure and most trusted student parent application.
CAMPUSDEAN, the most popular school management software system for educational institutions.