Uttar Pradesh is the most populous state in India, with a population of 20 crores. It is the most sought after tourist destination in the world. It is home to one of the holiest places in the world, Varanasi(Kashi). The world's holiest river Ganga flows through Uttar Pradesh. The Lord Buddha gave his first sermon at Sarnath on Buddhism. 
It has three world heritage sites, Taj Mahal, Agra Fort, and Fatehpur Sikri. Despite poaching and rapid deforestation, diverse flora and fauna continue to exist in the state. Pilibhit Tiger Reserve and Dudhwa National Park are quite important wildlife reserves in Uttar Pradesh. It has famous destinations places Ayodhya, Mathura, Varanasi, Vrindavan, Prayagraj, Agra, Lucknow, and Gorakhpur. 
Uttar Pradesh has the 5th largest state economy in India. It has a long tradition of education. In the earliest days, Sanskrit-based learning was a major part of teaching and learning. Presently Uttar Pradesh has more than 45 universities. These institutes are famous worldwide for the quality of education and research work. 
Banaras Hindu University in Varanasi

IIM Lucknow

IIT Varanasi

IIT Kanpur

National Law University in Lucknow

Sanjay Gandhi Postgraduate Institute of Medical Sciences in Lucknow 

Indian Institute of Information Technology

King George's Medical University in Lucknow

Dr. Ram Manohar Lohiya National Law University in Lucknow

Harcourt Butler Technical University in Kanpur

Central Institute of Higher Tibetan Studies in Sarnath, Varanasi

Rajiv Gandhi Institute of Petroleum Technology in Jais, Amethi, and the list goes on.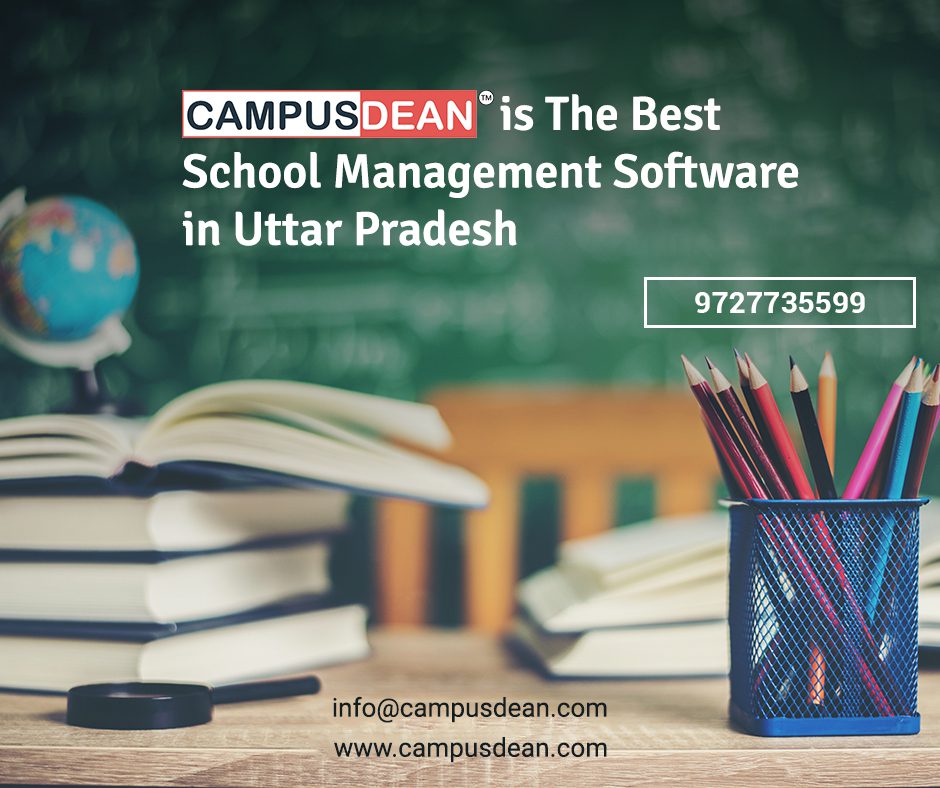 Jagadguru Rambhadracharya Handicapped University in Chitrakoot is the only university established exclusively for the disabled in the world.
These institutes provide innumerable opportunities for pursuing higher education to students of Uttar Pradesh and its neighboring states. 
Though there are many renowned academic and research institutes, the literacy rate in the state is 67%, with male literacy at 77% and female literacy at 57%. Significant work is needed to improve the literacy rate of girls and women of the state. 
The state government is working hard to improve the literacy rate and quality of education in the state. An innovative initiative 'Graded Learning Programme' has been launched. This aims to make the foundational skills of children strong. 
To help schools to improve the learning curve and quality of education, CAMPUSDEAN has come to Uttar Pradesh. This School ERP works on SaaS(Software as a Service) model. It is an online school management software that assists a school to manage its daily tasks most systematically and easily. 
This school management software caters to all school boards like State board, CBSE, ICSE, or International. It is fully customizable according to the requirements of a school or a college. It has several features to help with administrative and educational tasks of schools in Uttar Pradesh. 
Admission Management

Fee Management

Class And Exam Timetable Designer

Student/Staff Attendance Management

Student/Staff Profile Management

Library Management

Payroll Management

Inventory Management

Examination Management

Hostel Management

Lesson Planner

ID-Card Generation

Reports Generation

Transport Management System

Graphs And Charts For Analytics
This school management system is working wonders for teachers, parents, and members of school management. CAMPUSDEAN-the best school management software is available in Lucknow, Ghaziabad, Kanpur, Agra, Meerut, Varanasi, Prayagraj, Moradabad, and Jhansi.  
This school ERP helps schools to monitor the number of students regularly attending classes. With this school management software, schools can track the progress of students. CAMPUSDEAN helps to improve communication between schools and parents. 
CAMPUSDEAN is working wonders for teachers, parents, and members of the school management of many schools all over India. It has three exclusive school mobile apps,
A parent app for parents/guardians and students

A teacher app for teachers/educators

Management app for trustees or members of school management
Now, you can manage not only one, but all schools in your organization or trust. As it is a web-based school management software, it allows the simultaneous execution of all administrative tasks at the same time. Schools can access their data from anywhere at any time. However, to use this school management system, the school staff needs a login-id and a password and authorization from the school admin. 
CAMPUSDEAN – the best school management software makes information sharing easy and accurate. Storing, editing, and updating data have become simpler and faster like never before. Now all data of the school is safe even during the times of natural disasters. 
Various other perks like these are also available with the best school software. 
Biometric attendance system

OMR sheet

Tally integration

Bulk SMS/email
Working on this best school software helps schools to save a considerable amount of time and money. It makes the complete working of the school fully systematic and amazingly efficient. It is quite affordable and very easy to use. 
Schools using CAMPUSDEAN have reported significant improvement in students' and teachers' performance. Due to real-time communication, parents have become more vigilant about their child's learning curve. As clerical tasks like taking attendance and preparing report cards have become automatic. Teachers are dedicating more time to engaging productively with the students. 
The benefits of using the best school management software CAMPUSDEAN are innumerable. If you too want these advantages for your school or college. CAMPUSDEAN – the best school management software is now available in Uttar Pradesh so hurry up for the free demo. Contact us for a free online demo call us on 9727735599 or visit our website.