Bulk SMS and Email Integration
CAMPUSDEAN bulk email and SMS module can send an alert to parents and staff regarding fees due, student marks, results, events, late coming, etc. Bulk SMS software is software that is used to send SMS or emails in bulk. It sends alert messages or notices to a large number of people. It also sends reminders for important events. A big organization with large networks helps to inform and communicate with staff. It uses application programming interfaces ( APIs ) to add the SMS facility to any program. Like Email, FTP, HTTP, and SMPP. It can be programmed to send a message on a specific day at a particular time. You can add as many phone numbers as you want.
Use of Bulk SMS/Email
Schools and colleges have a vast network of parents, teachers, staff, and managerial members. There are many occasions when schools have to issue circulars. Sometimes, the notice is only for the staff or students. But many a time it is for parents and staff. To inform everyone together. Schools conventionally use two ways:
They send the notice to each class. The teachers write it on the blackboard and tell students to note it down.

A staff types the notice and takes out print-outs for each student and faculty. Then distributes them in every class.
Both these methods are time-taking, and you have to fix a staff for it. Students make mistakes when they copy the notice. Often they forget to show it to their parents on time. This communication channel is weak and full of problems. Whereas, handing out notices, takes up a lot of time. Communication is not fast and involves a lot of money and resources. Schools need a better medium to send and receive messages. As the number of people is quite large, it becomes necessary to use the latest technology for it. So for this whole process schools need CAMPUSDEAN school management software. By using school ERP schools can send alerts or notifications to parents or staff in bulk amounts. In a few clicks parents, students, and staff get alerts on their phones through SMS and Email.
CAMPUSDEAN school ERP has a bulk SMS and email module. Schools can add as many phone numbers or mail IDs as they want. Validate the numbers before sending the message. Make schedules or direct send SMS to deliver messages. Schools can send an SMS or notice at any date or time by scheduling the SMS/Email. Schools can make different groups for staff, students, or parents. Send messages according to the predefined groups or singly. Templates and sample messages are available. You can notify parents on Parent's app about their child's achievement. Send automatic fee-due and fee-paid reminder notifications through CAMPUSDEAN. Schools can inform teachers on Teacher's app regarding upcoming meetings.
Schools can keep a log of and status of the delivery of all SMS. In this way, they can know who has got the message and who has not. Schools have the option to send messages through SMS, notification, or email. They can generate the report also for delivering the SMS.
Features of Bulk SMS Service of CAMPUSDEAN
No phone charges

The efficient voice SMS option

Prepare messages in advance

Configure the SMS settings

Birthday Wishes to students and staff through SMS

Mass communication by Email & SMS

Intimate about changes in events

Create unlimited email lists from any report

Inform about the parent-teacher meeting, student's absence, results, and other activities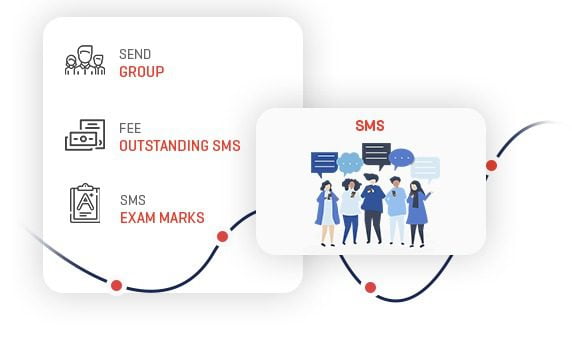 Advantages of Bulk SMS/Email Service of CAMPUSDEAN
Schools can send notifications to many people at one time. They don't need to type a note again and again when you can save it in the form of templates. Many predefined samples are already ready in the CAMPUSDEAN school ERP software. You can change the software settings as per your needs. Configure details like the provider name, sender name, topic, and date and time. Make many groups for employees, students, and management. Divide the group into the form of primary teachers and secondary teachers. Options to send emails in bulk directly from CAMPUSDEAN. Schools can send a notification to parents when their child is absent from class or school.
CAMPUSDEAN is the best bulk SMS/Email provider for schools. School Management System already has an SMS and Email module on it. It is user and pocket-friendly. It will prevent misunderstandings if concerned people get information on time. You can put a stop to false news or information from spreading. With this facility, schools can avoid possible confusion among parents and staff as well as communicate or inform them directly on their phones. It will keep parents, staff, and management updated regarding any activity or event in school. It will save a lot of time. CAMPUSDEAN is the best bulk SMS/Email software for schools in India.
Unnati Informatics LLP is the best Bulk SMS Service Provider for educational institutes. Contact CAMPUSDEAN for bulk SMS/Email service for your school. Book a demo and check out the facility of the school ERP.