CAMPUSDEAN Online Examination Management System helps to make exam schedules and prepare results. It can design timetables for all types of exam patterns. This software caters to all school boards. It can handle any school and student size.
More than two teachers are selected to administer exams flawlessly. But this school exam software reduces that number to less than two. All processes become smooth and on time. Right from making question papers to giving away report cards.
Why use Examination Management System?
Affects WHOM?

What happens when YOU USE Exam Software?

What happens when YOU DO NOT USE Exam Software?

Teachers

They can make schedule for exams on time.

Reduces pressure and burden to frequently design exam timetables for so many classes.

You can generate perfect error-free timetables. Saves from searching for mistakes.

Entering marks and preparing reports becomes superbly easy and quick.

Teachers can enter the marks directly by the software or from teacher app of CAMPUSDEAN.

No need to report card separately for multiple students. Software directly saves the data and generates report card for all students.

Schedule is not made on time.

Puts heavy pressure on teachers to design exam timetables regularly.

However careful a teacher is, errors do creep in timetables. That wastes time in making them again.

Takes a lot of time in entering the scores, calculating it and making final reports.

They write marks on paper or register books, then copy them again on the report card or on excel sheets.

After final calculation of result, teachers note down the marks on report cards of each student.

Students

Students can prepare well before the exams when they know about the schedule.

Children tend to score more and do well when they know about the tests at least a month ago.

Students do not get enough time to prepare for exams when schedules are not ready on time.

If schedules are not announced with enough time gap then it becomes hectic and difficult to prepare for the tests.

School

Schools can set the dates of exams and prepare the exam schedules at the beginning of the academic year and print the dates in the school diary.

Improves the performance of students and gives some free- time to teachers.

Saves from expenses on stationery items like register books,pens, bundles of paper.

It takes time to prepare the exam schedule so many schools cannot print the dates for exams in their school diaries.

Students do not do well, puts extra burden on pupils and educators both.

A lot of paper has to be bought frequently.Wastage of time and resources.

Parents

When the exam schedules are given in the school diary, it helps parents to make plans for taking leaves accordingly.

Parents cannot make plans for going on trips or attending any family function as the dates for exams are not known earlier.
What Solutions Do We offer in Examination Management system?
Exams daunt teachers and students equally. It is essential to handle exams efficiently. It saves time in making schedules and taking exams. They serve the purpose of evaluating the knowledge of pupils. Like, how well they have understood a particular concept? Which subjects are difficult for them?
Exam Management system lessens stress on teachers. It manages all steps for taking exams. You can define different Co-Scholastic Areas and Activities. Reports are customizable as per your needs. School Exam management software is a boon for all school sizes. Moreover, it also helps to input marks and prepare final results.
School Management System Software of CAMPUSDEAN gives facility to teachers to enter marks from their homes by Teacher apps on their phones. It lessens mistakes while entering scores in haste to prepare results. In turn, preparing results become fast. Marks of students also show-up on the parent's app.
Features of Examination System of CAMPUSDEAN
Teachers can make CCE Reports 

Our Exam Management System for Schools helps to send marks of students to parents in SMS or notification.

Easy and fast to make student results & do analysis

Pre Defined Grading System

Instant results on mark entry

Creates Exam timetable, Merit List

Exam Schedule, Evaluation Status, Result online
Student analysis through various reports made easy
Generates & prints Report card, State/CBSE Board Result
Percentile Generation & Pre Defined Grade Setting system made easy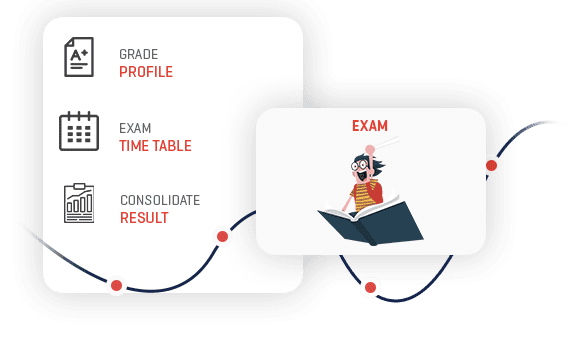 Advantages of Examination Management software of CAMPUDEAN
| | |
| --- | --- |
| It saves a lot of time for teachers. | Lessens the expenses on stationery like pen, papers, register books, record books, etc |
| You can make exam schedules for multiple standards at once. | Online Exam Software to create exams helps to make test schedules accurately. |
| Customize the date, time, and duration of test for a specific subject on a particular day. | You can define different types of test like FA or SA, weekly, or term-wise. |
| Teachers can either enter the marks from software or from the Teacher app of CAMPUSDEAN. | Considerable amount of time is saved while entering marks. |
| Define and create the CCE format for preparing final result of students. | Prepare Results and Report Cards of Multiple Students at once. |
| Make different types of Co-Scholastic Areas and Activities. | Easily store the scores of students in different Co-Scholastic areas. |
Why choose the Exam Management of CAMPUSDEAN?
Exam Management Software of CAMPUSDEAN is very user-friendly.

It is attractive and has different modules for all tasks.

You can access all modules from a single-window.

We have more than 500 report formats to cater to all types of report making.

It takes care of the safety of their data.

Very robust security system.

Teachers can access the modules after getting a login id.

They can access only those modules for which they have permission from the admin.

It makes it very easy for teachers to enter, edit, or update any data.

Time taken for making Results becomes very less.

All processes take place on-time.
(FAQ) Frequently Asked Questions of Examination Management software
Can we make customized Exam Timetable?
Yes, you can make a timetable of exams as per your needs. It can be scheduled according to the format of any school board that your school is affiliated with. 
Can we add Co-Scholastic Activities?
Yes, We already have a submenu of Co-Scholastic Areas and Activities. You can easily design and generate the format for storing marks and grades of different activities like sports, arts, etc.
School ERP Software provides One-Stop Solution for School Management System. It's a complete School Management System, Payroll Software, Attendance Management System, Student Record Database and Reporting Tool.