Online School Fee Collection Software
School fee collection software is a specialized tool designed to streamline and automate the process of collecting fees from students and managing financial transactions within an educational institution. It simplifies fee collection, ensures accuracy, and provides transparency for both the school administration and parents. Every educational organization now needs to manage fees effectively and digitally.
Nowadays, thousands of educational institutions rely entirely on online systems to effectively manage their financial data and records. CAMPUSDEAN school fee collection software is a completely safe and simple school fee collection system.
Features of CAMPUSDEAN School Fee Collection Software
Bank reconciliation report
Fee reminders through SMS and notification
Generate detailed bounced cheques report
Daily fee collection report as well as view
Maintains all fee-related data
Alerts sent to parents on fee details
Manages student fee collection easily
Cash and cheque mode of payment
Easily prints fee receipts and bank slips
Fee concession for a particular student
Miscellaneous fee generation & collection facility
Total fee collection report for specific month/ year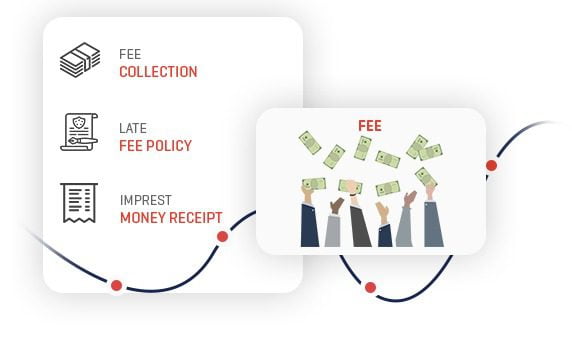 Advantages Of School

Fee Management System
| Conventional Method | CAMPUSDEAN |
| --- | --- |
| | It saves considerable time due to collecting data on a cloud platform |
| Quite a difficulty in searching for particular data | Finds any information within seconds |
| A huge amount of paper is required for storing data | No use for paper, every data is stored on the cloud-based platform. Saves paper, in turn, protects our trees, and hence our environment |
| Requires a lot of storage cabinets and quite an area | No need for cupboards and cabinets for storing files and folders |
| A lot of money is spent on papers, stationery items, register and record books, files and folders, and ink-jets | Reduces the expenditure on pen and paper by 80% |
CAMPUSDEAN for Online School Fee Collection Software

CAMPUSDEAN's online school fee collection software accepts a variety of payment methods, including online payments, credit/debit cards, net banking, and digital wallets. It allows parents to choose their preferred payment method with ease and flexibility. It offers a user-friendly interface for a smooth payment experience. Administrators can use the software to define and manage fee structures for different grade levels, courses, or fee components (such as tuition, transportation, and extracurricular activities). It allows for customization based on the school's fee policies.
The CAMPUSDEAN school software sends reminders and notifications to parents about upcoming fee payment due dates. It keeps parents informed and reduces the possibility of late payments. The software can calculate and apply fines or penalties for late fee payments. It is the process of calculating late fees based on predefined rules and adjusting fee balances. The software immediately generates digital fee receipts after a successful transaction. The software has functions for managing fee waivers or scholarships for qualified students. Administrators can set criteria, review applications, and make necessary adjustments to fee balances. The online school fee collection integrates with the school's student information system to synchronize student data, fee details, and payment records. It ensures consistency and accuracy across systems.
The CAMPUSDEAN school fee collection software tracks fee payments in real-time and generates reports for the school administration. For better financial management, it enables administrators to keep track of unpaid balances, monitor payment status, and produce financial reports.
A well-designed online school fee collection software streamlines fee management reduces administrative burden and increases financial transparency. It improves the parent experience, ensures on-time fee payments, and provides accurate financial records for school administration. CAMPUSDEAN is one of the best, most secure and most user-friendly school fee collection software.