Online School Fee Collection
School fee collection software is a system that manages the collection of the fee for schools. The fee collection process takes very little time and becomes very efficient. Managing fees effectively and digitally has become a need for each educational organization. Having a mediocre solution can result in many problems at the custom configuration, reports, or administration level. Each educational organization needs a robust and effective tariff and finance management system in today's time.
Having a mediocre solution can result in ineffective operations, loss of time, and, sometimes, financial losses. The quality solution not only provides convenience but helps improve the profitability and accuracy of financial data. A school or a university has only an important source of income than its rates. If the administration of the rates is carried out effectively, it can provide the convenience of efficient operations. There are many cases in which ineffective financial management creates many operational problems in an educational organization.
We are delighted to share that when it comes to fees and financial school management software for educational institutions, CAMPUSDEAN has become the preferred option. Nowadays, thousands of educational institutions are fully based on the campus system, to manage their financial data and records effectively.
CAMPUSDEAN School Fee Management Software
It is tiring for parents to take out time from their busy schedules and stand in long queues to deposit fees on time to avoid penalties for late fees. CAMPUSDEAN offers one solution for all the problems. A single window for taking all data and displaying it. This is very helpful for staff who manage all the work of fee collection. They have to type one word to search for any information.
We know that pictorial representation helps to understand revenue generation in a better way. So we have innumerable charts and graphs for this purpose. The data is accessible from anywhere at any time, which is very helpful for the members of the management. They can see and monitor the revenue directly from the Management app on their phones. The bonus point is our Management app, which displays every detail of the fee collected on a daily/weekly/monthly basis.
The Features of Fee Collection Software
Additional fee details
Bank reconciliation report
Fee reminder through SMS
Details of bounced cheques
Daily fee collection register
Maintains all fee-related data
Alerts to parents on fee details
Manages student fee collection
Cash and cheque mode of payment
Easily prints fee receipts and bank slips
Fee concession for a particular student
Unpaid fee report month-wise,year-wise
Miscellaneous fee generation & collection facility
Total fee collection report for specific month/ year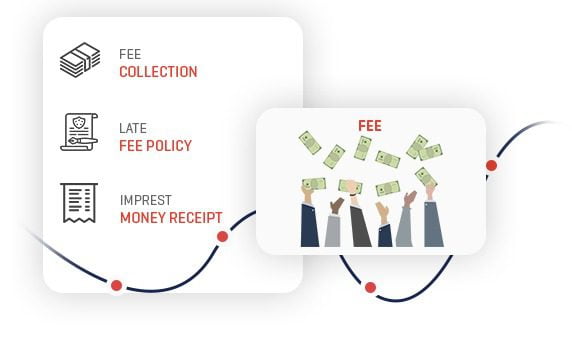 Advantages Of School

Fee Management System
There are many benefits of using this system:
|    Conventional Method |     CAMPUSDEAN |
| --- | --- |
| | Saves considerable time due by collecting data on a cloud platform. |
| Quite a difficulty in searching for particular data. | Finds any information within seconds. |
| A huge amount of paper is required for storing data. | No use for paper, every data is stored on the cloud-based platform. Saves paper, in turn, protects our trees, and hence our environment. |
| Requires a lot of storage cabinets and quite an area. | No need for cupboards and cabinets for storing files and folders. |
| A lot of money spent on papers, stationery items, register and record books, files and folders, and ink-jets | Reduces the expenditure on pen and paper by 80%. |
Why Choose CAMPUSDEAN for School Fee Management System?
Collection of fees, issuing fee receipts, and updating fee registers are strenuous jobs for the people in the administration. Doing it error-free is challenging. Reconciliations of the reports take up much time when there are errors in the records.
The school management system of CAMPUSDEAN has integration with the online fee payment gateway that is highly advantageous for the institutions and the parents. They can deposit the fees directly in the school account without standing in long queues.
With CAMPUDEAN's online fee payment facility, deposit fees and receive an e-slip in a few seconds. No worry about missing the dates for fee submission. Automatic reminders are sent directly to parents' phones to keep them aware of due dates. It is the best school management system in the long run.
It helps to complete big tasks with ease. Fee records and data are safe and accessible only with the permission of the admin. This removes the chances of discrepancy and maintains trust.
FAQ of school Fee Collection Software Solution
How safe is the Online Fee Payment Gateway?
It is quite safe because our software is quite robust and built using the latest technology — all the data transverses in encrypted form. And you get immediately notified about the transaction. It is supported on multiple servers and is customizable. There is nothing to worry about because we strictly adhere to all the rules and regulations for carrying out monetary transactions.
Who can access and modify the data?
Whomsoever Admin permits, only that staff can access the data for editing or updating and that person has a user-id and password for making changes. With the use of ID Password, it is a safe and secure fee collection.