Student Attendance Management
CAMPUSDEAN student attendance management system is a combination of software and a device for taking attendance and saving time. It is a digital system that reads the regularity of a person with accuracy. It uses Biometric sensors and RFID cards with software for storing the inputs.
You do not need to write down the in and out time on paper or excel sheets. Also, searching for particular data becomes very easy. A functional School ERP has this module to help your school perform better. It has two parts that are used to identify and authenticate the presence of a person.
Hardware:
Biometric Sensors that use fingerprints, iris, facial image, or voice recognition.

RFID(Radio Frequency Identification) cards or tags.
Software
These are in-built or integrated with hardware to record the time and duration of work. Software is robust and easily customizable for the organization that is using it. How much time staff is given in the office, and whether students are regularly attending the class? This software provides answers to all these questions.
CAMPUSDEAN offers Attendance Management System
The student attendance management system is paperless and time-saving software. CAMPUSDEAN has a variety of solutions for schools/colleges to take attendance of students and staff. We provide a complete integrated attendance management system to take attendance in an easy way. You can choose either the Biometric attendance system or RFID cards for tracking the entry and exit times of students and staff. As soon a student/staff presses their finger or punches their card, the device marks them present and notes the entry time. Similarly, when they are leaving, it records their exit time. Both the data are updated directly on the software.
Benefits of School Attendance Management Software for Teachers and Parents:
With the help of CAMPUSDEAN, the teacher application teachers can update student attendance in one single click. Select all students and tick mark the student who is present in class and if students are absent deselect the tick option beside the name of the absent student.  After saving the student attendance parents get updates about their child's school attendance through the parent app as well this attendance data is saved in the CAMPUSDEAN school management software so the admin can generate student attendance reports as per their requirement. The software saves the record for future use.
Benefits of Attendance Management System for Management and The Staff:
Staff/employee attendance is directly recorded and stored through a biometric system/RFID card and the management can directly view these records as well track the attendance of each and every employee. It shows accurate data of the time and duration of their work. This module is connected with the other modules like Reports, Staff attendance, Time Table Management, etc. With the help of it, schools can directly generate a salary based on work hours. Staff can also keep all records of their leaves and vacations. Management can know about the performance of the employees by viewing the graphs and comparison charts available on the CAMPUSDEAN School Management System.
Features of Student Attendance Management System are
Paperless

Online employee attendance management

Generates present & absent reports

Parents notified about their child's presence in school in real-time

Student attendance reports on the online portal

Creates pre-defined monthly student attendance register

Manages student and staff attendance Day/Week/Month/Yearly

Very less maintenance required

Robust software to ensure the safety and privacy of data

Graphs and comparison charts

Message alerts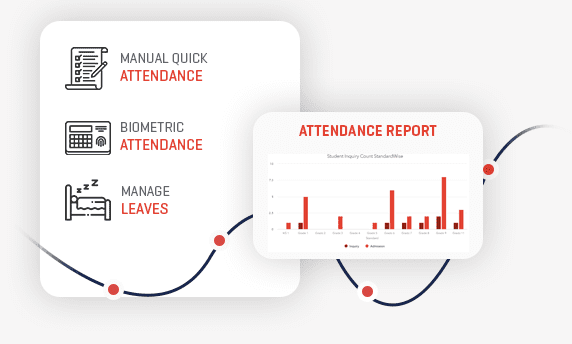 Advantages Of Student Attendance Management System
Saves your time

Makes your payment process automatic

Keeps error-free records

Staff can easily view their leaves

Calendar available to mark anything important

Resolves safety issues of children 

Increases efficiency of work

Makes everyone more accountable
Choose CAMPUSDEAN for Attendance Tracking System
We Have the best student attendance software, and we provide the facility of biometric attendance and online attendance option on the Teacher's app. Our software is scalable and user-friendly as it is built using the most advanced technology.
It is customizable according to your needs that too in your budget. Equally amazing is our service and support. You will never have to worry about the system, not running properly. We have taken care of all your present problems. With this, our software is also equipped to tackle future challenges that your school might face. So updates are available for the attendance management software so that it never becomes redundant.
Our apps are a bonus for you, and they help in making the attendance process better and more useful by generating reports and informing on time.
Staff is Updated with Records
It accomplishes the performance of your staff by maintaining a foolproof record. Staff cannot lie or give false leave information. Due to high-quality biometric sensors for detection, a person cannot be faked. Moreover, management can see the actual in-time and out-time of staff at any time; they will become punctual.
Does it help with the safety of students?
A message alert is instantly sent to the Parent's app when a teacher takes attendance. Hence they come to know immediately if their child has safely reached the school or not. If the child has not reached the school after leaving home, parents and school authorities can take action quickly.
CAMPUSDEAN staff/student attendance management system software is the best module to track, manage and generate various attendance reports of the students.