Student Management System

CAMPUSDEAN's student management system stores and organizes massive amounts of data. It stores all of the data in a centralized database. This makes it easier to edit and update the data. Putting student data in CAMPUSDEAAN school management software is safe and secure. The student database management aids in the completion of this work on a digital platform. There are several options for storing various types of data. You can easily update or edit a student's information by searching for him by name, roll number, or class. The student module is linked to other modules such as admission, fee collection, reports, transportation, library, and so on. Other departments can easily track the student data if they want to.
The CAMPUSDEAN student management mobile application is a comprehensive solution for schools and colleges to manage student-related activities. The app can be modified by our developers to meet the unique requirements of schools and colleges. Administrators can easily manage student enrollment, attendance, and performance records with the CAMPUSDEAN student management mobile app. Teachers in schools can track student attendance, homework, classwork, and the creation of photo albums, as well as communicate with students and parents.
Features of CAMPUSDEAN Student Management System
Student identification cards generate

Management of student fees

Keep parents informed

A user-friendly interface

Management of student exams

Extremely secure and dependable

Generate GR No. automatically

Maintain the alumni student list

Generate multiple student reports

Paperless student data management

Manage student transportation administration

With just one click, you can obtain student information

Student apps, teacher apps, and school software are all linked

Effective communication among teachers, parents, and management

A single software manages student data from multiple campuses or schools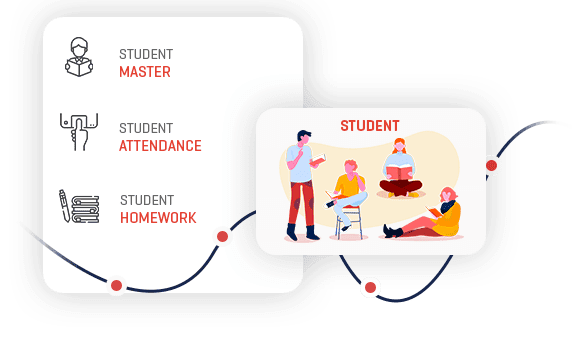 CAMPUSDEAN Student Management System
The CAMPUSDEAN student management system stores and manages detailed student profiles that include personal information, contact information, emergency contacts, demographic information, and academic records. It serves as a centralized repository for student information. The system streamlines the enrollment and admissions process by allowing administrators to keep track of and manage student applications, admissions, and transfers. It generates admission reports and automates the assignment of student IDs.
The student management system includes attendance tracking features for recording and monitoring student attendance. It allows teachers to mark attendance and generates reports on student attendance and absenteeism. Teachers can use the system to record and manage student grades and assessments. It generates report cards and calculates overall grades.
The CAMPUSDEAN school software serves as a communication platform for administrators, teachers, students, and parents. It allows for the distribution of announcements, the sharing of progress reports, and the facilitation of messaging between stakeholders. It may also include a parent app where parents can access student information and communicate with teachers. Student fees, fee structures, and payment records are all managed through the student management system. It automates fee calculations, creates invoices or receipts, tracks fee payments, and sends pending dues reminders.
Student health records, such as medical histories, immunization records, and allergies, are stored and managed by the student management system. It aids in the tracking and maintenance of vital health information for individual students. The system may include features for managing student behavior, disciplinary actions, and interventions. Administrators can use it to track incidents, issue warnings, track disciplinary actions, and generate behavior reports.
The student management system includes reporting and analytics features that enable administrators to generate a variety of reports on student data, attendance, grades, assessments, and other relevant metrics. It assists in identifying trends, assessing performance, and making data-driven decisions. A strong student management system improves communication and collaboration among stakeholders by streamlining administrative tasks, improving data accuracy, and streamlining administrative tasks. It is a comprehensive tool for managing student-related information, academic processes, and the overall student lifecycle within an educational institution.